Iraq Vs Australia
Iraq passed the Australian team after a hard match, and managed to qualify to the semi final, letting Iraq at one step from adding an Olympic medal to the lonely bronze medal we took at early sixties(can't remember when exactly) at weightlifting;
Iraq played very well at the first half, we had possession over the ball more than Australia, and this half ended 0-0
The second half the Iraqi players lost concentration, and played a defensive tactic, Noor Sabri made the best save in the tournament after a lob ball from Alex, and managed to take the ball from the line of goal, then jumped again and saved another shoot from the same player, then the referee canceled the goal for an offside (was a horror movie :P)
Then the game went on and on for the Australian until minute 63 EMAD MOHAMMED scored an awesome goal form a cycle kick and put Iraq on the lead :)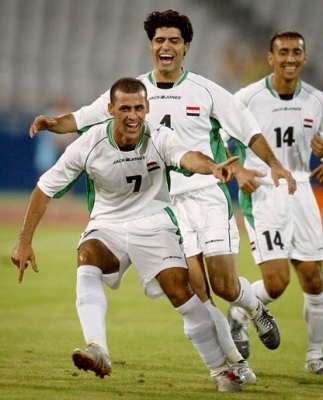 Noor sabri saved Iraq from certain goals, Razzaq Farhan wasted an Iraqi goal, and the rest of the match was for well defended line of Iraq and the confident performance of goal keeper Noor Sabri.
THANK YOU NOOOOOOOOOOR :)
This time the sky was really raining bullets, I wonder what will happen if we took the gold.
Italy qualified with Iraq to the semi final after the winning against Mali.
We will have to wait for the match between S.Korea and Portugal to see the winner.
GOOD LUCK IRAQ!
Here is the goal of Emad mohammed 6.97mg deserved to be downloaded :) >>>
download
Images gallery from Yahoo! click
here